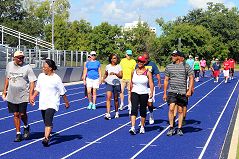 5
TOP: The Coaxum Enterprise Team;
MIDDLE: Ronald McDonald leads group in a rousing line-dance; BOTTOM: Walkers enjoy a healthy walk around the state-of-the-art track facility at Joe W. Brown Memorial Park.
5
Organizer and Lead Sponsor, Coaxum Enterprises and a coalition of supporters brought their resources together to host the first "I Love New Orleans East" walk-a-thon, or "Heart Walk", as this
year's event was to benefit the American Heart Association. .Even Ronald McDonald himself got into the action by leading a group in an energetic, heart-pumping line dance. Health screenings and additional information were made available by two medical mobile units provided by the Daughters of Charity Health Centers and the Franciscan Missionaries of Our Lady Health System.