Planet Fitness owners and developers were joined by members of the New Orleans East community at the ribbon cutting ceremony for the new Crowder Retail Center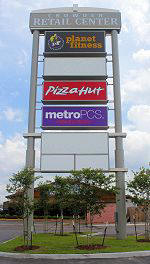 at 5700 Crowder Blvd. The 30,000 square-foot facility is currently home to Planet Fitness, Pizza Hut and Metro PCS. The center, already near tenant capacity, signals retailers are recognizing the buying power and demand within the community. Tenant, Scott Davison, who owns several regional Pizza Hut stores, says he believes this location will be one of his most successful. After signing up over 4,000 members in two months, Planet Fitness co-owner Gary Sinopoli, says this opening has outpaced other Metairie and West Bank locations. And all indications are that business will continue to grow at the Crowder Retail Center.

The Paul Dorsey Development team has taken a once blighted eyesore and transformed Crowder Blvd. into a significant retail hub. Proceeds from pre-opening sales are being donated to the Kenilworth Playground Booster Club and to the St. Maria Goretti Booster Club. Pizza Hut is providing pizza to the kids attending the monthly STEM NOLA classes - making both companies, in addition, great community partners.