New Orleans, LA - On Saturday, March 10, 2014, STEM NOLA will sponsor its fifth in a series of "STEM Saturdays with Dr. Calvin Mackie" at the Joe W. Brown Recreation Center, 5601 Read Blvd in New Orleans East. The three-hour session, beginning at 9 a.m., will offer hands-on activities for children to build and launch rockets of all kinds: paper, air-pump, water-propelled, Alka-Seltzer-propelled and engine-propelled. The special guest speaker for this STEM Saturday is someone who can further illuminate the subject of rockets, NASA Astronaut Dr. Jeanette J. Epps.
"We are extremely excited about having Dr. Epps partner with STEM NOLA," said Dr. Calvin Mackie. "Just her presence will provide the children of New Orleans with further exposure to the possibilities before them and provide the inspiration and motivation for their dreams," he said. Dr. Epps recently graduated from Astronaut Candidate Training with intensive instruction in International Space Station systems, Extravehicular Activity (EVA), robotics, physiological training, T-38 flight training and water and wilderness survival training.
The industry leader in aerospace, The Boeing Company, is a primary sponsor of STEM NOLA. Boeing's Director of Operations Rick Navarro said sponsoring STEM Saturdays helps to ensure the company will have home-grown engineers in the future. "Boeing is building the largest rocket ever built, the Space Launch System, at NASA in Michoud. We support programs like STEM NOLA because they expose students and communities to interactive, project-based opportunities in Science, Technology, Engineering and Math. We believe STEM education can and will transform lives and sustain communities," he said. The Boeing Company, the leading manufacturer of commercial jetliners and defense, space and security systems, will sponsor 50 free slots at STEM for kids who attend school on free and reduced lunch vouchers.
"I would like to thank The Boeing Company," Dr. Mackie said, "for supporting the effort to expose our children to the careers of the future and allow them to meet STEM professionals who are working in our community on the Space Launch System built at the NASA Michoud facility."
On Saturday, STEM Professionals and college students will work with children on projects that will teach the fundamentals of how to build and launch rockets. The activities are aimed at teaching children the engineering design process and teamwork.
Previous event:
At Joe Brown Park in New Orleans East, organizers planned for 100 children...A whopping 300 turned out.
"There's a thirst in our community for knowledge, for education, for hands-on activity, and more importantly, some hope," said Mackie.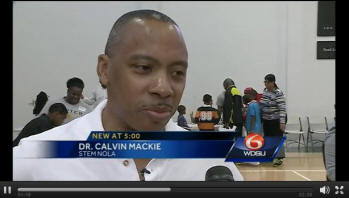 5
For more information contact Adonis C. Expose at 504.338.6262 or email Adonis.expose@gmail.com. To register visit: http://www.STEMNOLA.com