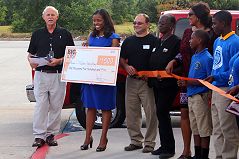 5
Highlighting the ribbon-cutting ceremony was a $1500 donation by Big Lots to Fannie C. Williams school.
Boating approximately 24,300 sq ft, including an expanded furniture section, Big Lots returns to New Orleans East. Finding it's current premium location available was a big plus, according to Bob Borders - District Manager for Big Lots.
Indeed, Big Lots now occupies the former Circuit City electronics store that has sat vacant since hurricane Katrina. [Circuit City liquidated its final store in 2009 after nationally, filing bankruptcy]. With its modern and prominent design, Big Lots makes a major statement along this growing economic corridor in eastern New Orleans.